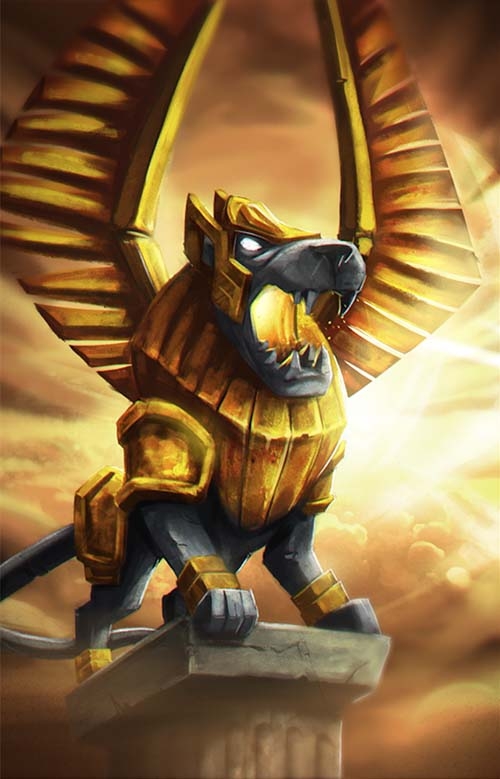 Background:
The eternal guardian awakens to shine divine light upon the land and drive back the growing darkness.
Most Hated Hero:
Lord Zomm
Element:
LIGHT: 30% bonus against DARK enemies.
Tags:
MAGICAL BEAST TANK
Traits:
Magical: Takes less damage from non-physical attacks
Flying in the Face: Can't be retaliated against.
Abilities and Ascensions:
Bite: A basic Physical Melee attack doing 95 (scales) base damage.
Sun Worship: Ranged Spirit attack on all enemies for 115 (scales) base damage and a chance for Magnified Light debuffs. (Magnified Light is 2x damage from Light Heroes.)
Next Ascension:
Required Evos:
Light Evo Larva: 28
Light Evo: 15
Dark Evo Larva: 12
Subterranean Evo: 2
New Trait!
Avatar of Light: Immune to Dark elemental bonuses.
Secret to Eternal Life: Upon death he will bring a dead ally back to life.
New Ability!
The Guardian: Forces enemies to target single attacks on this char and adds an anti-magic aura to team, 9% (scales) damage reduction from magic attacks. Starts powered.
Next Ascension:
Required Evos:
Water Evo: 25
Dark Evo Monarch: 15
Mind's Eye Evo: 8
Shadow Evo: 2
New Trait!
Judgement Day: When dealing a death blow the corpse is burned and can't be resurrected.
New Ability!
Divine Inspiration: Heal self plus boosts ATK and DEF 100%
Joel | Community Manager | Boss Fight Entertainment
www.bossfightentertainment.com
Post edited by Joel on