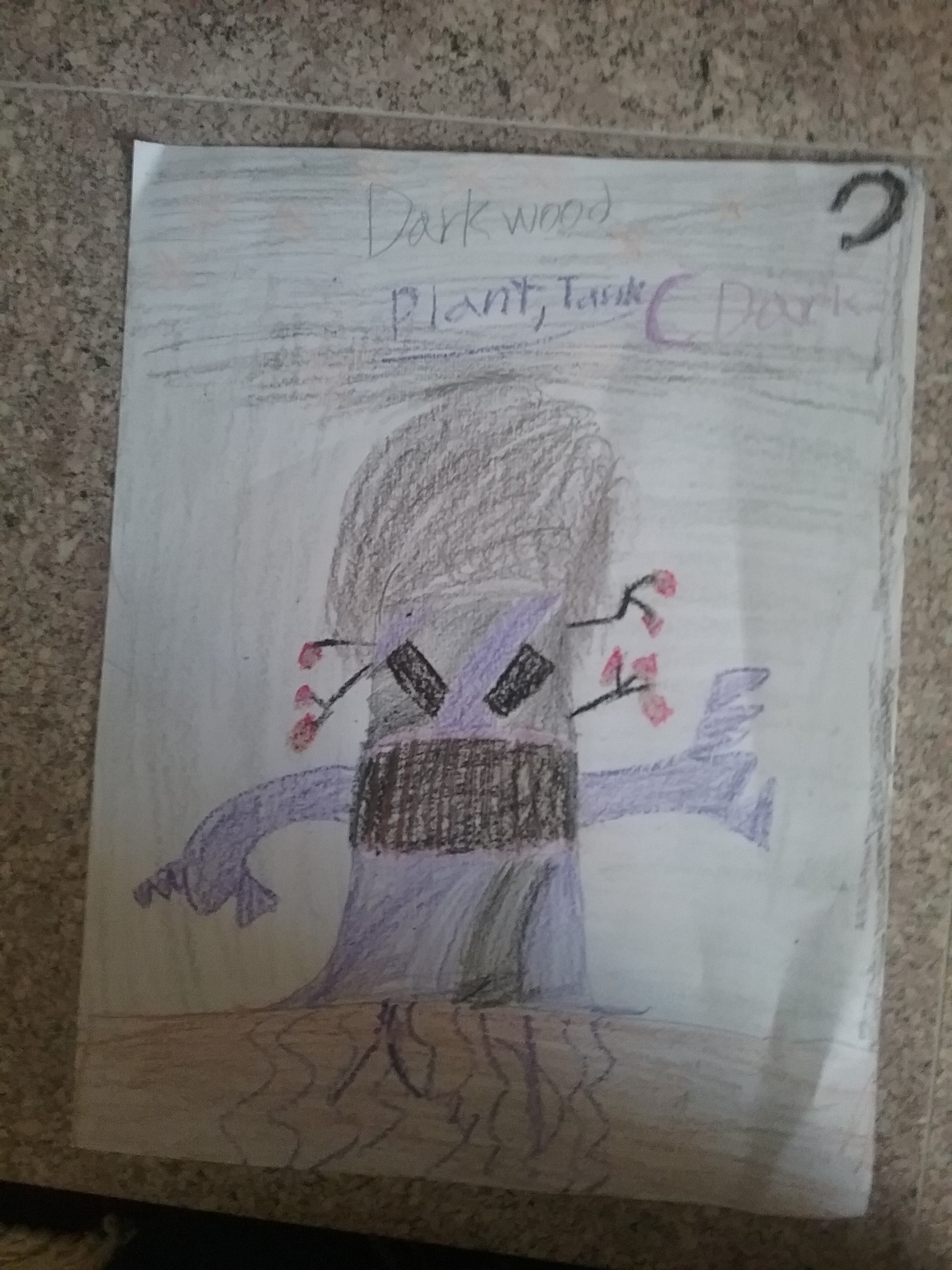 Darkwood (3* Dark Hero)
Most Hated Hero: Masuta Kira
Darkwood spent years creating the undead to rule the world but, Masuta purged them all and ruined his life's work.
Background: Darkwood was once a peaceful, but big apple tree.
Darkwood was also the only tree that could talk.
Very different from the other trees, Darkwood was kept safe in a very sunny environment, while still producing organic apples for everyone.
Until one day....
The Undead Scourge attacked and corrupted anything near them, including Darkwood.
Darkwood transformed into a necrotic black tree that would consume anything near it.
After months of chomping everything near it, Kobal decided it would be a good idea to take Darkwood into The Underworld, making him do all the dirty work for the Scourge.
Now, this vile tree will do anything to destroy his opponents and help The Undead Scourge.
Tags: Plant, Tank.
Runes: Purple,Purple,Green,Green,Blue
Traits:
Chomping Time - Removes enemy corpses and gets 1 stack of Growth per corpse.
Plant Growth - This plant grows, increasing Max HP and ATK at the end of each round. (Stacks up to 8 times and resets each encounter.
Tree of the Abyss - When Growth resets or gets purged, only lose half of your Growth stacks.
Abilities:
Dark Blast - A Ranged Spirit attack doing [% ATK] base damage.
Vile Bloom - Ranged Dark Attack on all enemies with a chance to Stuck, Grows allies Plants for 3 turns.
(Cooldown: 5)
What is Stuck?
When a hero is stuck, they are basically glued to the ground, making them unable to use Physical attacks or use moves that allow them to move from their spot (excluding basic attacks).
Example: IGOROK cannot use Arctic Rush because that ability makes him move from his original spot.
Example 2: Masuta Kira cannot use Death Blossom because that is a Physical attack.
A hero is also only stuck for 1 turn.
1st Ascension:
30 Dark Evo Monarchs
25 Dark Evo Sprites
15 Nature Evo Monarchs
2 Shadow Evos
New Traits!
Plant Force - If on a team with Lily Blossom and Rocky, gain double Growth stacks.
Sacrificial Resurrection - When an ally Undead or Plant dies, take 25% of Max HP damage and revive them.
New Ability!
Dark Guard - Adds Taunt, increases team DEF by [40% Level 70], Grows allies Plants for 3 turns, starts powered.
(Cooldown: 5)
2nd Ascension:
40 Dark Evo Monarch
35 Nature Evo Sprites
4 Crypt Evos
2 Infinity Evos
New Traits!
Zomm's Grace - If on a team with Lord Zomm, Undead Max HP increased by 30% and Attack increased by 20% .
Rotten Flesh - When an enemy dies, disease the enemy team and Lord Zomm.
New Ability!
Black Hole - Sucks out the energy of enemy team, causing them to lose 3 energy, also gives enemy team The Vile Curse, causing them to die after 3 turns.
(Cooldown: 7)
What is "The Vile Curse" ?
It's a debuff that can be purged but if applied to a hero, that hero will instantly die after 3 turns.
IGN: MatadorGKilla
Level
60
(might forget to update)
Scrub in:
Guildless right now lol
.
My internet is back, I don't think anyone cares anyways.