Oakthorn, Lord of the Forest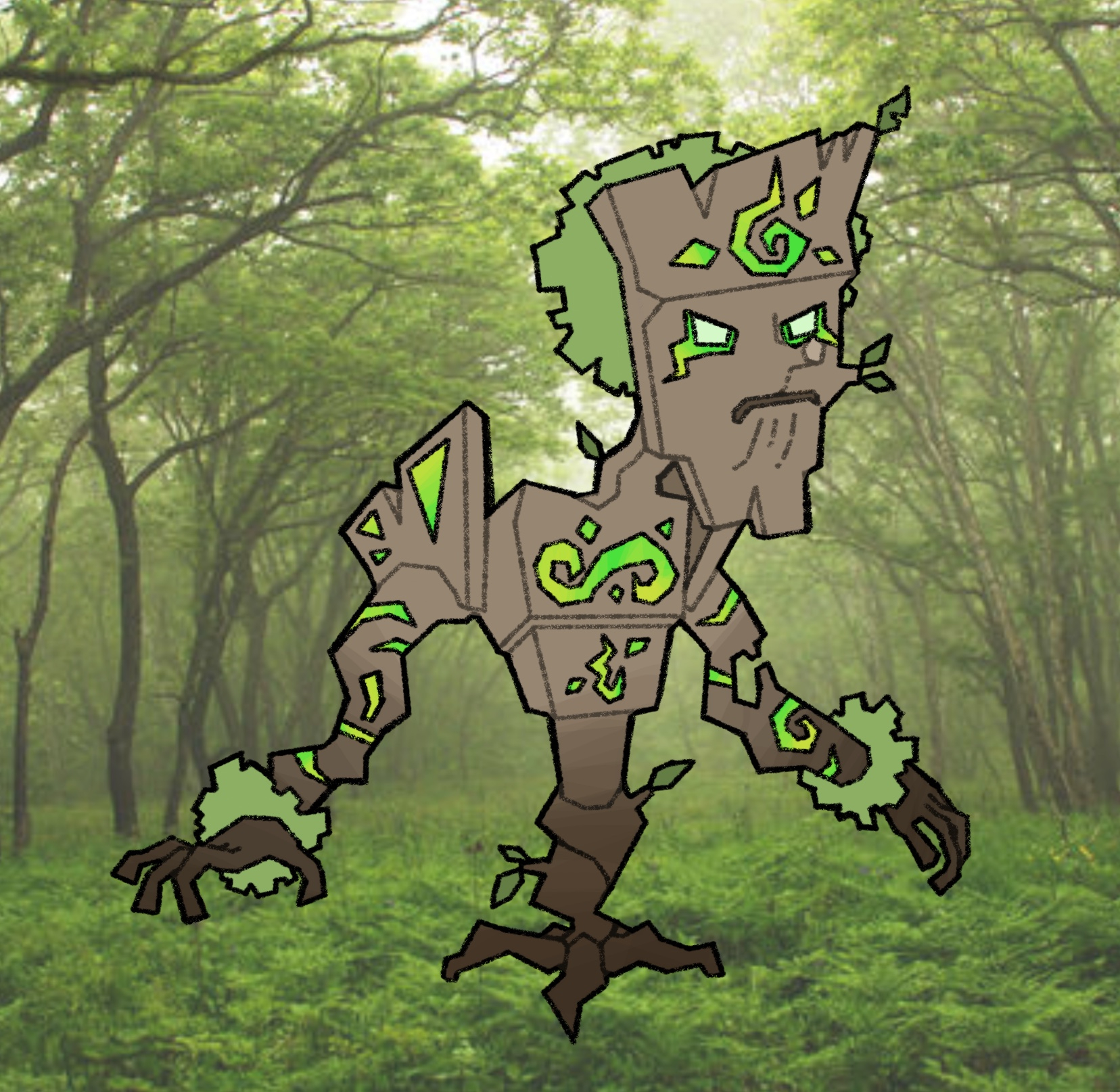 Whenever a tree is chopped, Oakthorn feels it. His roots are connected to every tree in the known realm. Oakthorn stands as a guardian of all things natural, and is constantly working against the corruption of the Great Evil. His brother, whose name was lost with his soul, is now known as the Root of All Evil. Oakthorn's only wish is to defeat the Great Evil, because he believes doing so will return his corrupted brother to him. Hopefully, as he remembers him.
Class: Legendary/Plant/Tank/Slow
Element: Nature
Stats:
Health - 10/10
Attack - 4/10
Defense - 8/10
Skill - 3/10
Runes: Nature/Nature/Nature/Light/Light
Passive Abilities:
0A:
Slow
- This Hero attacks last, but gains +25% Hp and Atk.
Golden Sap
- For the first 3 turns of battle, allied Plants cannot have buffs purged (including this one), and will take greatly reduced damage from Fire enemies.
Hardended Bark
- This Hero's thick bark negates 30% of Ranged damage, and 15% of Physical damage. Ranged Physical attacks will thusly be reduced by 45%.
Harbinger of Life
- Grants all Nature allies +[15%] Attack, +[10%] Defense, and +[10%] Skill.
1A:
Harbinger of Life II
- Grants all Nature allies +[30%] Attack, +[20%] Defense, and +[20%] Skill.
Anti-Corruption Roots
- Whenever a Plant ally is hit by a Dark enemy's attack, chance for all Plants (except the Plant which was attacked) to revenge-attack the attacker. Plant allies also will deal +[100%] damage against Dark foes.
2A:
Growth Spurts
- Whenever Plant allies Grow, they will gain +1 energy. When hit by Critical hits, Plant allies will Grow by one stage.
Woodwork Barrier
- For every stack of Growth on allied Plants, all Plant allies are granted +1.875% Damage Reduction (60% with 4 fully grown Plant allies).
Abilities:
Oaken Swing
- Basic Physical Melee Attack. Deals low damage to the target, and buffs own Defense for 2 turns. If this attack Crits or defeats the target, buffs team Defense for 2 turns.
Rage of the Forest
- Physical Melee attack for moderate damage on a target. Then rallies all Plant allies to use their first fully charged ability (excluding this Hero) on the same target. Plant allies will just perform a basic attack on the target if they have no abilities that are fully charged.
Cooldown: 6
Wild Growth
- Buffs team Attack for 2 turns, and applies Taunt for 3 turns. Then Grows all Plant allies by 3 stacks. If a Plant ally was already at 8 stacks of Growth, they will become Invincible for 1 turn.
Cooldown: 4
Sapping Roots
- Sending a crawling wave of roots at the enemy team, they deal moderate Ranged Physical damage to all enemies. All enemies damaged will also have up to 3 buffs purged, and Plant allies will gain energy for every buff purged (on the target enemy, only). After this ability is finished, grants all Plant allies Golden Sap (see Passive Abilities) for 3 turns.
Cooldown: 6